XYZ

"We Move, We Connect": The Ultimate Flaneur Experience


Yoonjae Oh
Adolphus Wong



Background

With Hong Kong's second CBD gradually taking shape, the Kowloon East revitalization plan is accelerating its speed with the aim of providing more space for suitable uses in order to meet Hong Kong's changing social and economic needs. The plan includes the conversion of industrial buildings into non-industrial uses, such as hotels and offices. Quite simply, Kowloon East offers significantly reduced rentals from most core markets, and a higher return for money in terms of building quality. Thus, industrial buildings have become objects of real estate investment due to the reinvention of this area.

However, there is little emphasis on the socio-economic side of the redevelopment plan such as how it would affect the lives of the local population. A potential threat to the local businesses and residents is the displacement order by the government or private landlords. Today, locals are afraid of a possible eviction and a complete erasure of their local history and existent culture as new high-rise bldgs replace the land. While urban redevelopment may be inevitable to improve the city's image and deal with the safety problems caused by old buildings, our team thought Hong Kong's heritage is the shopkeepers' livelihood and it must be preserved in Kwun Tong redevelopment.

With this background, we asked the question - How might we empower Kwun Tong's local businesses in a more sustainable and innovative way to create an inclusive society?


Current Challenge: Lack of spatial information

The current condition of overall industrial buildings at Kwun Tong district needs to provide users a more engaging interaction with various building infrastructures. Essential factors that contributes to the quality of an urban experience, such as elevators and stairways, are lacking in the current offerings. How might the smart technology help navigate and enrich the urban experience?


Future Challenge: Conversion and alteration of industrial buildings

As Kowloon East redevelopment plan accelerates, the theoretical threat of gentrification and displacement issue will arise. Also, there will be a high uncertainty in the user requirements and how we plan urban zoning, pedestrian connectivity would be challenging in the upcoming years thinking of how buildings evolve. How might the SMEs continue to maintain its service with the changing urban settings in Kwun Tong?

Opportunity: A digital interface for urban life activation

If industrial buildings can be integrated with digital technologies for better synergy in spatial orientation and urban experience, there might be a change on the urban fabric or cityscape. Digital intervention means increase of accessibility of all possible urban space. There could be more dynamic and mixed use of urban space. Imagining every industrial building as a vertical labyrinth, there will be diverse activities happening inside. With no limit of access to digital interface or technology, industrial buildings could be fully exploited by urban dwellers and leverage its building value. Ultimately, supporting survival of SMEs and preservation of local history and culture.

By taking a flaneur approach to urban navigation and urban technologies, the vision of xyZ is connecting disconnected urban fabrics, inducing a pedestrian culture among vertical spaces, and spreading economic activity over more industrial buildings.
Part II Analysis and Synthesis
Urban Navigation is a critical service in shaping urban experiences in the information age. Current mainstream navigation services are largely limited to street levels. However, vertical spaces of buildings are important venues of value creation in the modern age. How might the urban intelligence tools enrich the urban transformation process?
Literature Review
Indoor Navigation
Over the past decade, digital navigation applications have changed human's urban experience in numerous ways. It has enabled humans to travel from a venue to another in a highly accurate and convenient manner at almost no cost. However, current navigation tools are yet to address all needs of humans in the modern urban context. In urban environments of high density, cities such as Hong Kong and New York, buildings are important venues for value creation. However, coverage of today's mainstream navigation is arguably limited to outdoor environments as the Global Positioning Systems (GPS) technology becomes useless when the radio waves are blocked by physical barriers such as wall structures. In recent years, the market sees an increase in efforts in discovering navigation for indoor spaces. Accenture (2021), for example, builds an indoor navigation system for the National Gallery Singapore, a 64,000 square meter floor area. The system comprises an infrastructure of iBeacons which transmit short-range signals for indoor wayfinding and proximity sensing. Other companies such as Mapspeople introduced indoor navigation capabilities in a like manner as other existing outdoor navigation services.
However, as much as the subject matter of wayfinding itself, indoor navigation in buildings require complex considerations of cognitive interactions with various building infrastructure, such as the elevator, the stairway. These factors, essential to contributing to the quality of an urban experience, are lacking in the current offerings. Furthermore, as the turn-by-turn and point-to-point experience is arguably task-oriented, it provides little context and, in some case, disincentivizes the user from exploratory behaviors valuable for certain sectors such as retail and food and beverage. xyZ provides an alternative case to urban navigation by taking these factors into account.
Buildings as unplanned spaces
There are more than 1800 industrial buildings in Hong Kong. The building type used to be an important venue for manufacturing establishments before the local economy transformed to a service-based economy. Following the relocation of the manufacturing industry to mainland China, many such buildings were left unutilized. The government introduced a series of revitalization policy, including rezoning of industrial land, to permit commercial use. As a result, many such industrial buildings become an agglomeration of a wide range of functions, including creative studios, fitness centers, restaurants, et cetera. However, the transformation of these spaces brought to problems of functional misalignment. Industrial buildings were designed as functional spaces for efficient manufacturing and transportation of goods. Therefore, features important for other purposes such as wayfinding were missing from their original design. Furthermore, multiple ownerships, common among industrial properties in Hong Kong, prohibits a systematic reprogramming of spaces and improvement of infrastructure.
The Gap: the appropriateness of current navigation tools for successful placemaking
Sense of security is an important factor for successful placemaking. Complex and often unplanned spatial arrangement in the multi-functional industrial buildings often discourage them from exploring the space. A further analysis of the psychology pinpoints the cause of lacking incentives to 1) poor organization of spatial data, and 2) lack of contextual information.
As a norm, every building has a directory in the lobby to help navigate spaces. However, if as an interface, the building directory neither is limited to providing basic floor information. Neither does it help the pedestrian navigate the spaces beyond the elevator buttons, nor does it supply more information about the company names by registration.
The design limit of current building directories contributes partially to:

1) poor presentation of spatial data.
2) The lack of contextual information is associated with the design limits of industrial buildings.
Normally, revenue-driven spaces of retail and entertainment uses are designed with way-finding systems and evidence-based spatial arrangements which drive pedestrian flow and hence the commercial performance. In such context, spaces are scientifically moderated that a point-to-point navigation system will only minimally reduce the user's chances of encountering shops or restaurants of similar kind. However, in an industrial building, where strategic wayfinding is not part of its initial design, the same approach to navigation will largely increase the efforts for exploration and opportunity matching, as tenants are not arranged in a specific spatial pattern. Often, they are distributed across different floors.
Furthermore, in the long term, it is difficult to develop a relationship between indoor spaces and its users with the approach current mainstream navigation tools take. Indoor spaces are visually less transparent than outdoor areas. Therefore, they require more physical and mental efforts to forge an exploratory behavior. Scholastic discussion from as early as 2013 suggested that reliance on GPS technologies on a routinised basis is associated with weaker cognitive abilities of spatial orientation. Other scholastic discussions suggest that the automation approach deprives the "chance moments" of interacting with their surroundings and the sense of place (Jaffe, 2013).
Flaneur experience
An urban concept known as the Flaneur dates back to the 19th century, when it is originally referred to the urban higher class in France, who enjoyed the freedom to wander for the sole purpose of urban speculation. Though without objectives, the flaneur plays a crucial role in shaping his surroundings. With similar philosophical foundations, design thinking advocates developed the knowns and unknowns framework, which depicts the relationship between knowledge and exploration (Justo, 2019). Tang (2020) interpret that exploration in the unknown-unknown context offers the opportunity to investigate queries without bias, while known-unknowns provide more tangibility for answering a query. By optimizing and tailoring urban interaction models from the known-unknown matrices, xyZ seeks to offer psychological incentives for urban dwellers to explore their surroundings.
Case Study
Google Maps AR
From the the keynote at Google's developer event "Google I/O 2018", augmented reality (AR) navigation was announced as a new feature in Google Maps.
Google Maps' AR walking navigation function is very simple. The mobile phone camera is activated when the user touches the Start AR button in Google Map Walking Directions. And the AR mode arrow appears to support walking directions in real time. There are also animal helpers who guide users to their destinations.
AR walking navigation is a service scenario that can be easily imagined, but the technology background is formidable. When we use the map app, we can see where we are now and where we are going through a technology called 'localization.' However, the user's current location often appears to be a strange location. This is especially common in urban environments.
Recognizing this problem, Google calls its localization technology as 'global localization'. Global localization is a positioning technology using Visual Positioning Service (VPS), Street View, and Machine Learning. In general, when people are heading to destination, they look for directions by comparing whether the surroundings are the places they expected. For example, when we're looking for directions, we don't say, "This is why I'm here," but "There's McDonald's, so we can go into the right alley next to McDonald's."
The VPS determines the user's current position based on the image rather than the GPS signal. VPS indexes the visual features of objects and environments (buildings, bridges, etc.) that we encounter in our daily lives and holds them as data. In other words, you can compare images obtained by scanning the surroundings to see where the user is and where they are moving.
HotStepper
HotStepper is the world's first Augmented Reality character based wayfinding app. Enter any address in the world and HotStepper will guide you there, walking the real world streets as you follow behind.
Created to coincide with the launch of our LA office, Hotstepper combines the very latest in AR, geolocation and mapping technology and features a somewhat eccentric character who will (when he's not too busy dancing) attempt to guide you to wherever you need to go.
Hotstepper moves this character by combining GPS information and 3D mapping technology. The character always walk about 10 meters ahead of the user. Above all, the fact that the character's shadow is expressed by calculating from the current position to the position of the sun is also an indispensable feature(Environmentla Reflection).
"We're working on storytelling using real-world data," "Hot stepper is part of the project" said Luke Ritchie, the head of XR & Interactive Arts of Nexus Studio.
Refined Problem Statement
Throughout the research, we have put considerations in selecting a focus research problem related to enhancing spatial orientation in the given urban and architectural context. After exploring available solutions, we refined our problem statement: How might the navigation-driven urban intelligence tools enrich the pedestrian culture among vertical spaces, provide a social and enjoyable walking experience, and facilitate economic activities?
Solution
The team responds with a digital community engagement platform that takes the advantage of AR technology to bring about better awareness of local businesses inside industrial buildings. xyZ is also an indoor wayfinding app that uses AR character that guides visitors of industrial buildings to the destination to change the wayfinding journey more enjoyable and fun.
Part III: Design Ideation

Overall Goal of Project
The overall goal is to transparently show local small businesses that are located inside industrial buildings in a playful mode so that the businesses could gain awareness from the locals and also incentivize locals to visit them.
Additional goals:
1. To enhance spatial orientation in vertical indoor environments
2. To preserve the urban heritage of Kwun Tong District, which is the shopkeeper's livelihood
Current Condition of Industrial Buildings
From virtual site visit, and with the assistance from student ambassadors of HKU, we were able to learn that today, the transformation of spaces in industrial buildings is revealing functional misalignment.
Complex and often unplanned spatial arrangements in the multi-functional industrial buildings often discourage visitors from exploring the indoor space. The cause of lacking incentives to three factors.
1. Poor organization of spatial data
2. Poor wayfinding system
3. Lack of leisurely or retail activities
Often, they are distributed across different floors. Mostly SMEs are renting space in industrial buidlings and some expect customers to walk in but some don't. We identified that personal service business such as restaurants, cafe, apparel stores, beauty shops and others are found mostly on the lower floors, while businesses that require office works such as real estate and trading are located on the upper floors. As our focus is to facilitate interaction between visitors and SMEs, we decided to focus more on events happening on the lower floors where most of the businesses there expect customers to walk in.
Identifying user groups
Despite the poor accessibility, there is a strong customer base for small businesses running in such buildings. Based on our on-site user survey, we identified three user groups who visit the buildings.
Nearby visitors
Nearby visitors are mostly office workers working nearby, and this group frequently visits industrial buildings to grab food in places that are within 10-15 min walking distance from their offices. They usually look for restaurants or street food venues where they are familiar with and likes to use the queuing service.
Outside visitors
Outside visitors usually search specific stores in online prior to their visit and tend to explore other stores during the visit.
Small businesses owners
Most of the businesses running inside industrial buildings were Food and Beverage (F&B) stores. The rest are creative studios, antique stores, craft stores and etc. SMEs owners, who are less likely to afford lease in shopping malls, answered that cheap rent is the most significant reason to run their business in industrial buildings.
User Needs
Nearby & Outside visitors
From a visitor's standpoint, poor building conditions and inaccurate storefront information were the factors that discourage their exploratory shopping. In this regard, urban experiences in such high-density areas haven't mediated much through a virtual platform, while brand awareness of SMEs has grown with the growth of e-commerce and other digital platforms. To tackle these problems, we want to improve wayfinding system and enable shoppping-friendly psychology for visitors.
Small business owners
The growth of digital platform has become the main advertising channel for SMEs, however, it doesn't mean that it guarantees to bring more customers to their business. The main struggling point for tenants is insufficient drive for customer flow and low brand visiblity due to poor branding and marketing measures. To tackle these problems, xyZ aims to increase business exposure and enable stronger brand identity.
Selected study building
Hoi Luen Industrial Center Block A 55 Hoi Yuen Road, Kwun Tong
Hoi Luen Industrial building is located in the center of KWun Tong Industrial district, estimated to occupy approximately 510 businesses based on the number of rentable units. It was built in 1985 and it has 14 floors with 3 cargo lifts and 2 passenger lifts. The interior space appears to be just like other typical interior space in Kwun Tong industrial buildings. Ground floor is well decorated, however, the indoor atmosphere of floors that have less people and walk-in stores is very grey and have dim light. No human interaction is another factor that disincentivizes visitors to walk around and sometimes feels unsafe to stay longer at such buildings. The only space where it brightens the indoor space is where stores have bright and fancy decorative storefront displays.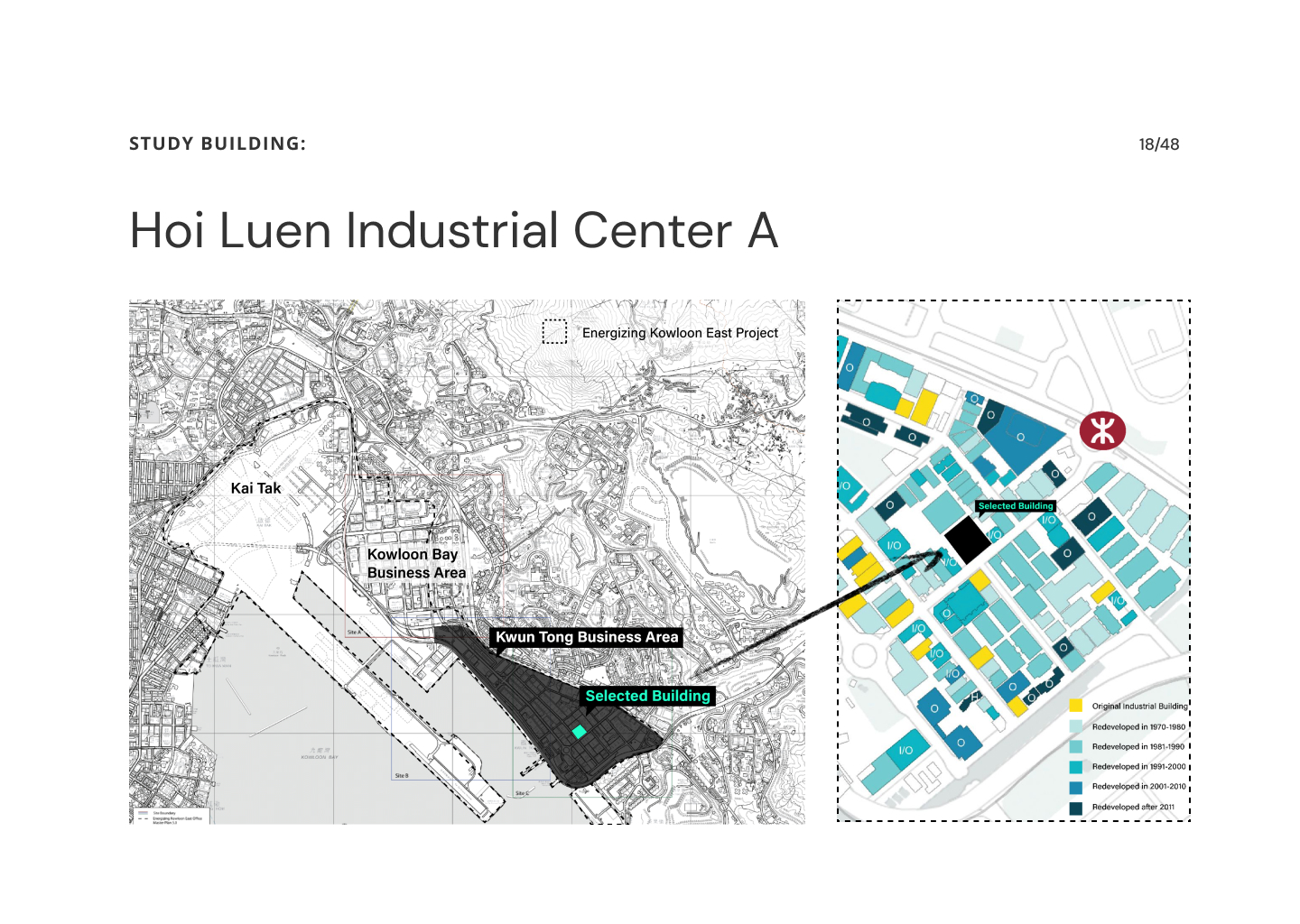 Highlighted key features
Through the case study in the previous chapter, we were able to get insights that AR character would help users as a wayfinding guide. We used study building as a target to find indoor environmental elements that can be found inside this building. Here we sort out the elements of the indoor environment that we would find in other industrial buildings in this area. We have roughly selected six indoor infrastructures, and we want to use 3d scanning techniques to scan these infrastructures and apply techniques to detect the current location of users.
Another key feature is the AR character that enables a more playful interaction between human and building infrastructure. The character has two roles. For new visitors, this character will be user's navigation guide and a friend helping to find stores the user is looking for. Also, it will give some suggestions based on the user's interest. For frequent visitors, this character will be a virtual friend notifying all store news that are sent out in real time. This is specially designed for people who already know the path to their final destination but would like to know minor store news such as waiting lines or out of stock notice. This type of news are the ones that can't be delivered right away to potential customers unless they keep check instagram or facebook feeds. AR character willl receive nearby store news based on the user's location.
Part IV: Design, Prototype & Iterations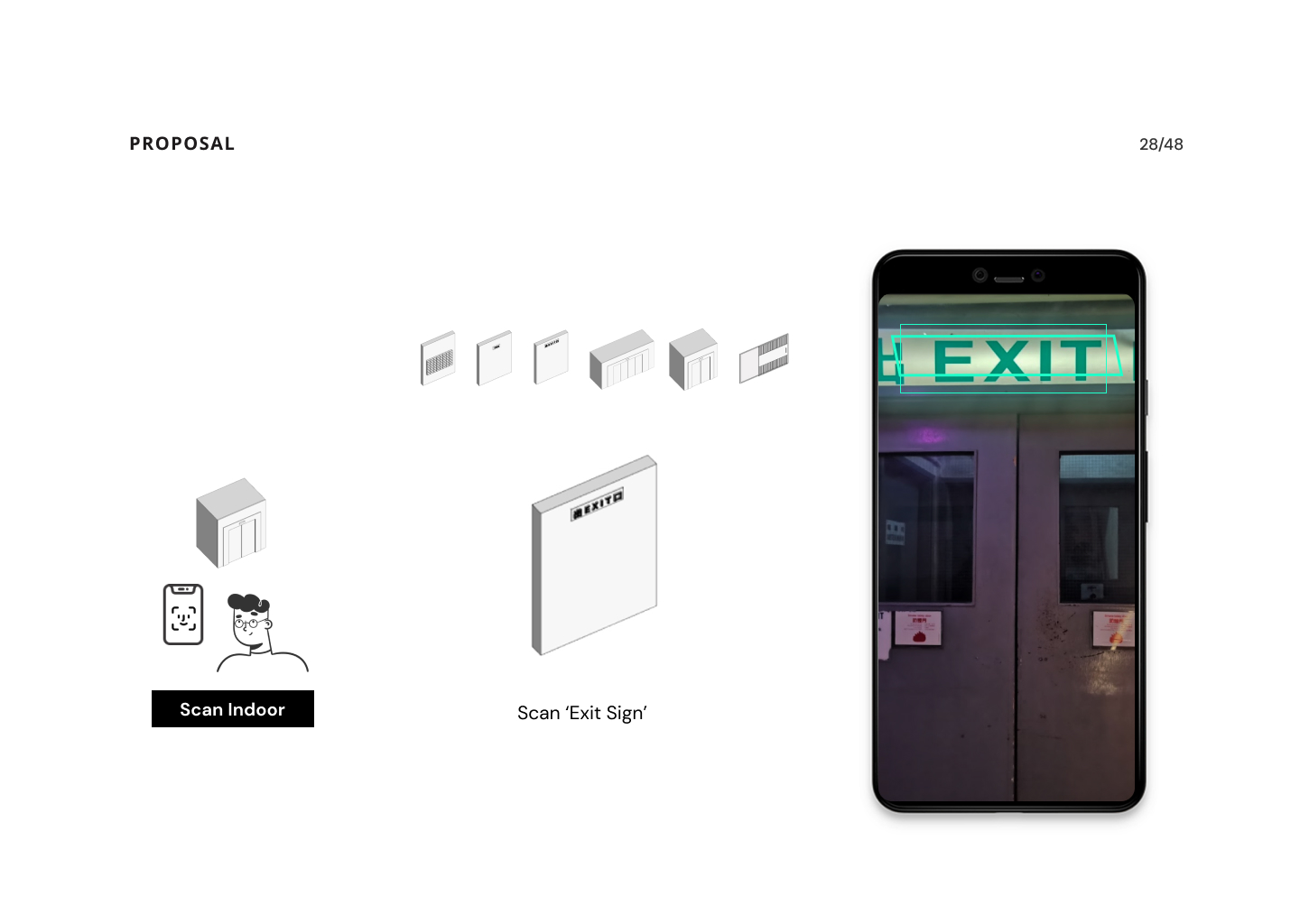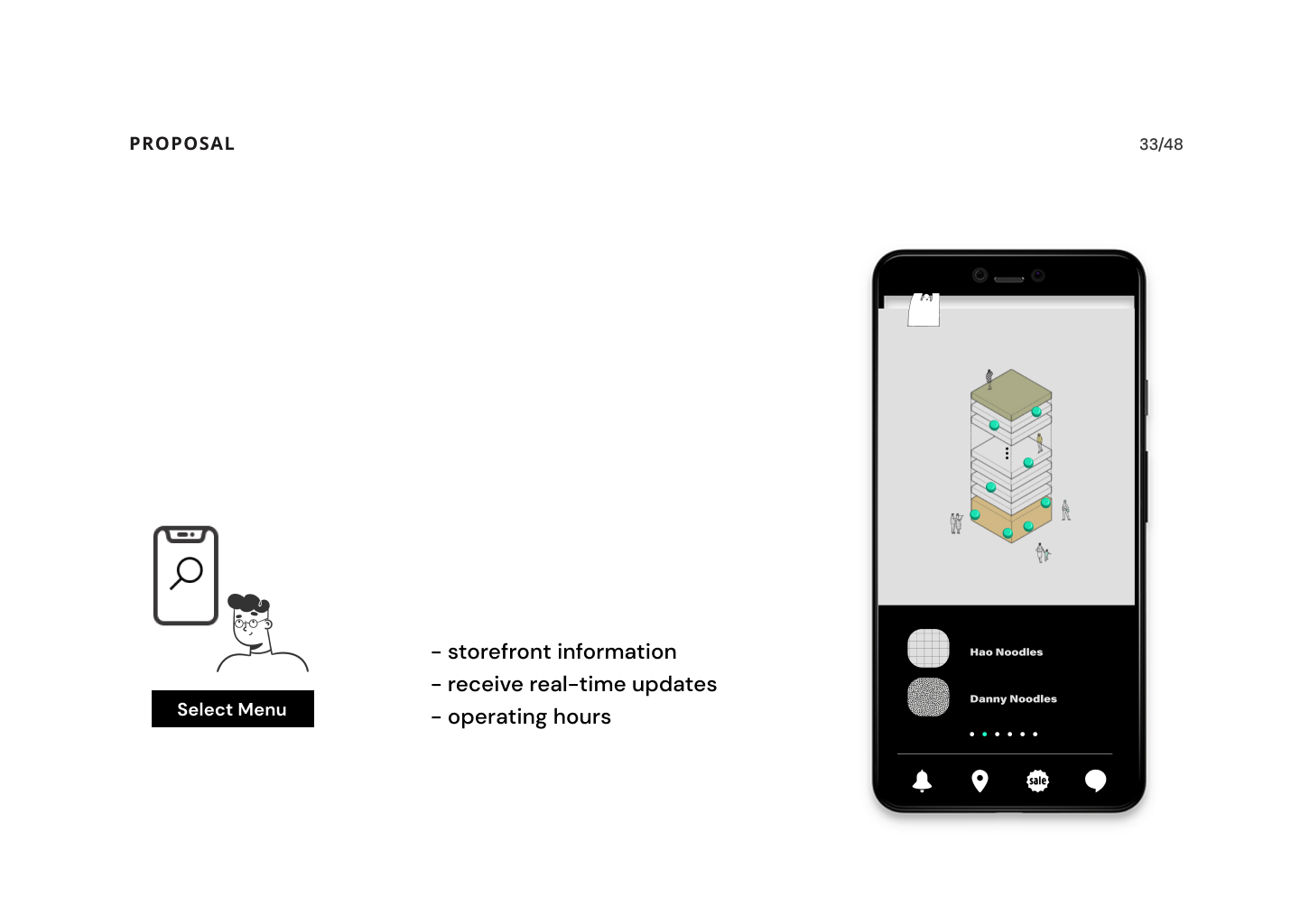 About xyZ
The concept of xyZ is an indoor way-finding app that uses an Augmented Reality(AR) character to guide users to facilitate interaction between small business owners and visitors of industrial buildings. xyZ incentivizes locals to discover hidden local small businesses located at industrial buildings and help businesses to gain awareness from the locals. Beyond strengthening the connection between locals and small businesses, xyZ also aims to provide a social, inclusive, and enjoyable experience to the locals with features such as store search, indoor navigation, real-time store news center, and chat service. With xyZ, city dwellers will be the co-creators of Kwun Tong's evolution and be part of the journey of preserving its urban heritage, the shopkeeper's neighborhood.
User Flows
Visitor's mode (Details: next page)
To start xyZ, select user mode; frequent visitor or new visitor or business owner.
Take a picture of indoor infrastructure (among elevators, cargo lifts, exit sign, unit number sign, storefront doors, and mailbox) and wait for scanning.
After scanning, your current location is detected and an AR character will pop up.
Select a function you would like to launch: 'indoor navigation' or 'realtime store news'
a. Indoor navigation
Walk behind the character. You can talk with the character as you are walking, and can ask store information or request for real-time store news sent out from nearby stores.
b. Real-time store news center
The character notifies you real-time store news sent out from nearby stores. Contents of news are mostly about current waiting lines/time, out-of-stock/out-of-menu notice, deal offer, and etc.
Business owner's mode (Details: next page)
To start xyZ, select user mode; frequent visitor or new visitor or business owner.
Select a function you would like to launch:
'open Openrice' or 'Post news' or 'Chat'
a. Open Openrice
Directly links to Openrice.
b. Post news
Write short news and share it to customers. Contents of news are mostly about current waiting lines/time, out-of-stock/out-of-menu notice, deal offer, and etc.
c. Chat
Chat with customers.
Final Prototype
Visitors
Business owners
Market Differentiation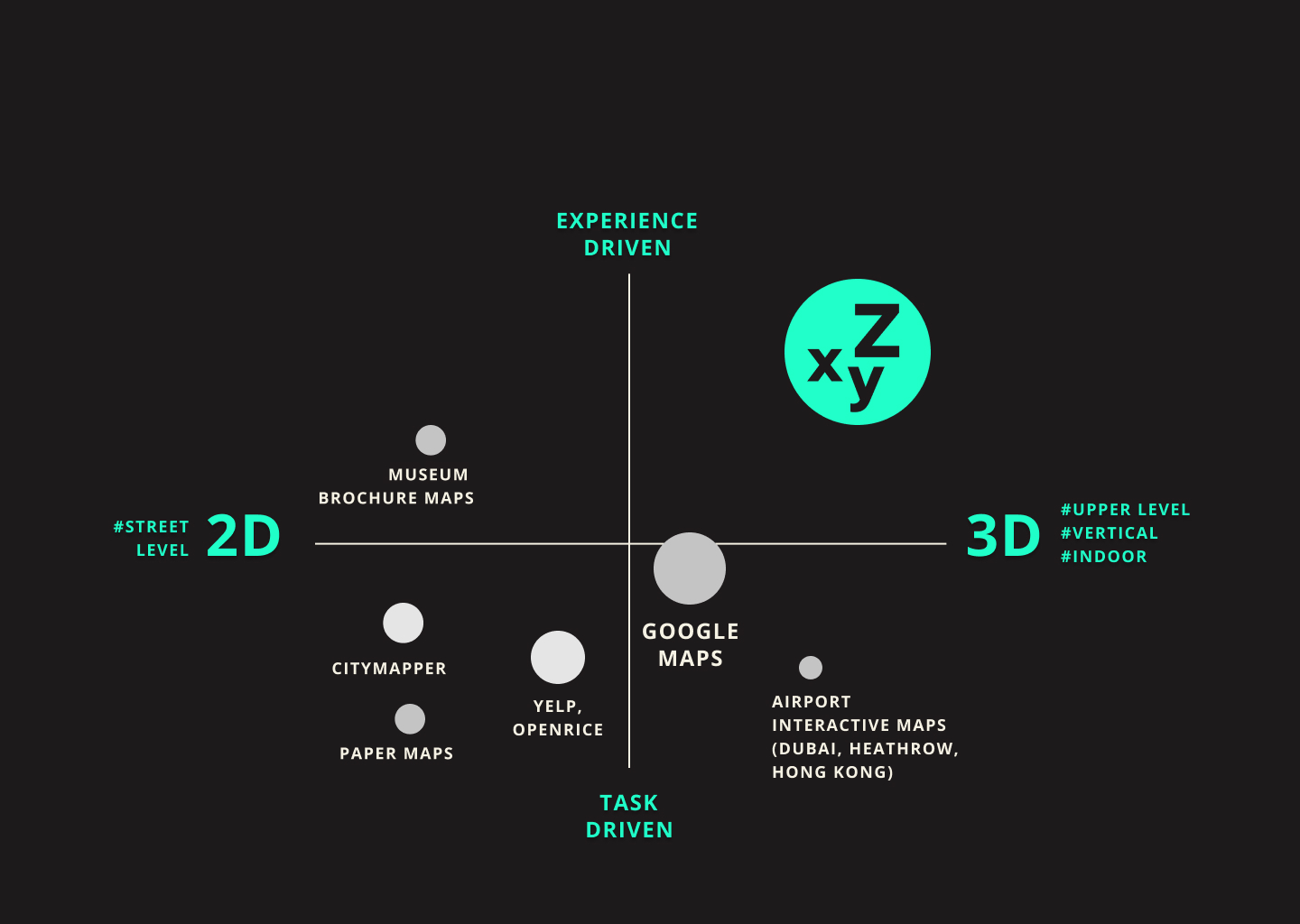 Current mainstream navigation or interactive 2D maps are supporting turn-by-turn and point-to-point experience. However, we want to make xyZ more experience-driven, which means we want to support people to discover places naturally by notifying or recommending nearby places during their shopping journey. In particular, Google is showing the most significant progress by integrating AR technology expected to appear in google maps soon. Google AR is also opening indoor navigation. Although Google AR and xyZ both use interior building infrastructures as essential factors contributing to the quality of an urban experience, the difference between them is that xyZ is more contributing to creating human interaction with physical infrastructure in a playful mode with this character idea.
Evaluation and Success Metrics
By providing experience to the visitors, xyZ can gain data patterns of consumer's behavior. Establishing a comprehensive store database of Kwun Tong could be possible as existing and new stores register business profiles on xyZ. Building property owners can have business insights with these two datasets when xyZ provides unparalleled data about their property. With detailed insights on tenant satisfaction, overall space usage, amenity demand, and more, owners can better monetize the building and drive long-term retention and revenues. These data could also attract real estate agents in terms of building asset analysis. We propose xyZ to be a branch of a bigger umbrella where retails can leverage the same infrastructure for commercial values, thereby generating revenues as other online information-sharing platforms like Yelp.
By taking a flaneur approach to urban navigation and urban technologies, future versions of xyZ can reconnect disconnected urban fabrics, induce a pedestrian culture among vertical spaces. We believe with the help of xyZ, Kwun Tong residents and Hongkongers can be the co-creators of Kwun Tong's evolution and be part of the journey of preserving its urban heritage, the shopkeeper's neighborhood, and create a more inclusive society.